This is a simple curry in a hurry . I mean when you have nothing fantasy to cook ,and your kids are demanding something special or like different from casual routine . You may prepare this super easy and mouth melting Malai Capsicum with 5-6 ingredients only and that too are always there in your Pantry. Frankly, whenever my daughter and hubby asked for something different ,I prepare this combo ,and they just loved it till the last bite . It is finger licking tasty and effortless dish to try . So let's start the recipe . Yum
Do not forget to send your entries in my event
Cook with Comfort
, only one day left . Hurry...
My other recipes with Malai /Fresh Cream
Malai Curry
Methi Malai Matar
Dal Makhani
Makhani Matar
Ingredients
:
1/2 cup fresh cream
1 capsicum , finely chopped
1 tomato , finely chopped
1 onion , finely chopped
1/4 cup peas
1 teaspoon red chilly powder
Salt to taste
1teaspoon oil
Method
:
Heat a pan and add tomatoes and onions . Cook on low heat and add 1teaspoon of oil . Let it cook till tomatoes are tender .
Add capsicum and peas and cook for 4-5 minutes on low heat with frequent stirring.
Now add fresh cream and salt and red chilly powder. Mix and cook till cream leaves oil . It will take about 5-7 minutes.
Remove from heat and serve hot with Paratha , Chapati or as a spread with bread.
Enjoy!!

Serve-2. Cooking time-20 to 25 minutes
Simply Tadka's 2nd Blog-iversary Event and Giveaway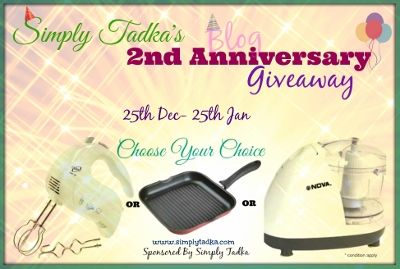 Best regards,
Sapana Behl